Description
A remote-mount version of the Garmin GMA 245 audio panel for G3X Touch equipped aircraft, GMA 245R is designed specifically to interface with G3X Touch to put a world of work-saving, communication-enhancing digital features at your fingertips.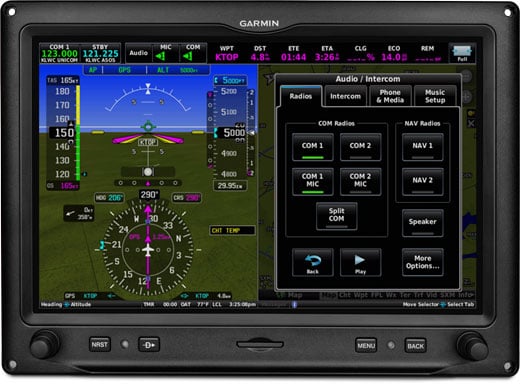 Seamless Integration with G3X Touch
Featuring Bluetooth wireless connectivity, 3D Audio processing, clearance playback and other impressive audio mixing and distribution features, the GMA 245R audio panel represents the most advanced audio control technology Garmin has ever introduced for the non-certified market. Better still, by multiplying your mounting options and reducing the stack height of your avionics, this remote audio unit helps optimize the glass cockpit capability you can fit into the limited panel space you have available.
Intuitive Touchscreen Control
Dedicated Audio, MIC and COM buttons atop the G3X Touch flight display provide access to all switching control tabs and function pages for the audio/intercom system. At full capacity, GMA 245R will support dual comm, dual nav and multiple aux receivers, totaling up to 7 radios in all. There's a 6-place intercom with 3 modes of isolation. And a split-comm mode lets the pilot and copilot broadcast on independent frequencies. There's even a built-in USB charging port that can be panel mounted to power your smartphone, tablet, music player or whatever.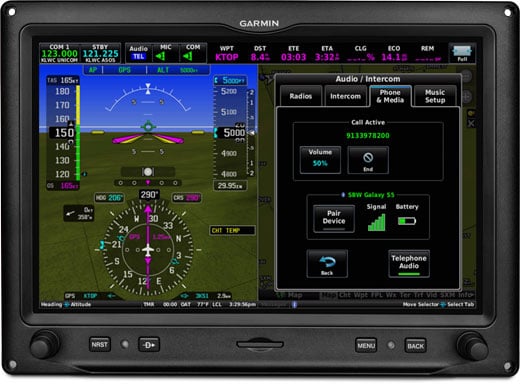 The Benefits of Bluetooth
Built-in Bluetooth connectivity with GMA 245R enables pilots to connect the unit with their smartphones or other compatible devices, so they can make and receive calls in the cockpit as well as stream audio entertainment through their mobile devices to pilot, copilot and passenger headsets. When incoming calls are received, visual and aural cues are provided — with on-screen notifications available on G3X Touch to let pilots know who's calling. Access to Bluetooth-enabled telephone or music inputs can easily be routed to up to 6 headset positions throughout the cabin. In addition, hard-wired sources, such as SiriusXM® satellite radio, DVD or CD players, can also be connected and distributed through GMA 245R. In addition, wireless Bluetooth connectivity for the Garmin VIRB® XE action camera (sold separately) gives pilots the option to overlay intercom audio and ATC communications onto their HD video soundtrack.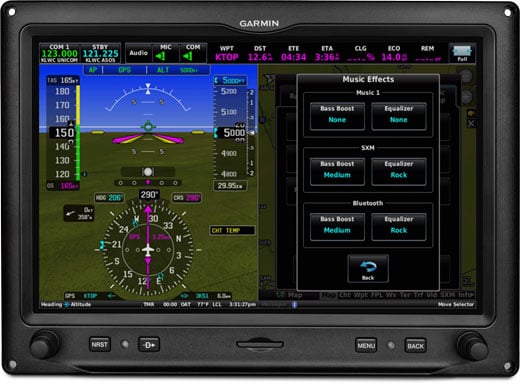 Impressive Audio Effects
Like a high-end music equalizer, GMA 245R brings exceptional "home theater" quality audio to inflight media and entertainment. The audio processor provides support for 2 dedicated stereo music inputs — plus additional Bluetooth wireless devices — which can be distributed to passengers and crew according to their preferences. Music features allow pilots to select enhanced bass boost levels as well as equalizer effects that include rock, classical and pop audio profiles.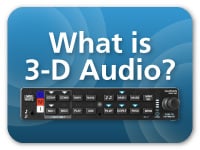 Listen in Virtual 3-D
Sophisticated 3D Audio processing in GMA 245R adjusts audio in the headset to approximate how the human ear normally hears and registers sounds in space. This makes it seem as though different audio sources are coming from different directions around you, making it easier to distinguish 1 source from another — and helping you focus on the higher-priority calls coming into your headset. For example, COMM 1 will seem like it's coming from the left while COMM 2 will seem to be coming from the right.
Capture that Clearance
One of the most useful Garmin audio features ever invented, an automatic digital voice recorder on GMA 245R continuously captures the last 60 seconds of incoming active comm audio for instant playback on request. Any pilot who's ever missed an ATC call, frequency assignment or clearance amendment will appreciate the value of this handy "say again" function.
Let's Talk Auto Squelch
As a further enhancement to the cockpit audio experience, advanced Auto Squelch technology automatically adapts the GMA 245R audio panel to a quiet or noisy environment without clipping words or cutting out during conversation. A high-performance digital signal processor constantly monitors ambient noise level and automatically adjusts the mic squelch level required to keep intercom conversation as comfortable and natural as possible — whether you're talking over engine noise in flight or quietly going through your engine preflight checklist on the ground.
 
Some other audio panels are typically set to work best when the engine is operating and cockpit noise is at its highest, which, in turn, requires you to talk loudly on the ground prior to engine start for audio voice activation. GMA 245R's advanced Auto Squelch technology eliminates these inconsistencies, allowing you to speak at normal levels, no matter what the ambient sound conditions may be.
A Superior Audio Experience
Given such extensive audio control capabilities, GMA 245R clearly raises the industry standard for communications flexibility, hi-fi sound quality and wireless Bluetooth access in today's ever-more-connected cockpits. It's the ultimate "nerve center" for pilots who want the absolute best from their inflight audio environment.
The Bluetooth® word mark and logos are owned by the Bluetooth SIG, Inc.
Physical & Performance
Unit size: 6.29"W x 1.36"H x 9.06"D (159.8 x 34.5 x 230.1 mm) includes end mount rack and connectors
Weight: 1.39 lbs (630.49 g) includes mounting bracket and connectors
Electrical:

 

11-33 VDC
Environmental
Temperature: -20° C to +55° C (operating)
Altitude range: to +55,000 ft MSL unpressurized
Audio Inputs
Impedance: 600 ohm
Max. input: 5 Vrms
Isolation: 60 dB minimum
Bandwidth: 100 Hz to 6.5 kHz
Transceiver: 3 (including TEL)
Receiver: 5 (NAV1, NAV2, AUX1, AUX2, AUX3)
Alerts: 4 (unswitched)
Telephone input: 1
Intercom Functions 
Positions: 6 (pilot,copilot, 4 passengers)
Volume control: 2 (pilot, copilot/passengers)
VOX: Automatic (1 per MIC input)
Modes: Pilot, crew, all
MIC impedance: 150 ohm
MIC Bias: 11 VDC through 470 ohm
Keyed ICS: Configurable
Music functions      
Inputs: 2 (independent from Bluetooth audio)
Impedance: 600 ohm (differential)
Max. input: 3.0 Vrms
Gain: +24 dB Max/-96dB min
Input level: < 200 mVrms at max gain for full power out 3dB@1kHz Bandwidth 20 Hz to 20 kHz
Distortion: < 0.1% THD+N typical at full power over full bandwidth
Muting: Selectable and configurable
Bluetooth     
Supported profiles: A2DP and AVRCP (music) and HFP (phone)
Paired devices stored: 10
Connections allowed: 1 device
Supported devices: Phones, tablets, VIRB XE, G3X additional features
Volume: Set by device, and adjustable on GMA display 3dB@1kHz Bandwidth 20 Hz to 20 kHz
Distortion: < 0.1% THD+N typical at full power over full bandwidth
Firmware updates: Free and field loadable by SD card
Headphone Outputs
Output amplifiers: 3 Stereo (pilot, copilot, passenger)
Output power: 65 mW into 150 Ohms Pilot and Copilot, 260 mW into 37.5 Ohms passenger
Distortion: < 3% THD+N at 10% Power, < 10% THD+N at full power
Frequency response: 20 Hz to 20 kHz
Impedance rated: 150 Ohm pilot/copilot, 37.5 Ohm Passenger (4-150 Ohm headsets)
Impedance supported: 150 to > 600 Ohm
USB Charge Port   
Rated power: 10 Watt
Max charge current: 2.1 Amps
Overcurrent protection: USB charge port protection with current > 2.3 Amps
Device supported: Any USB device
Charging scheme:  DCP
Speaker       
Outputs: 1
28 Volt Aircraft : 10 Watt into 4 Ohm; 7 Watt into 8 Ohm
14 Volt Aircraft: 3 Watt into 4 Ohm 3dB@1kHz Bandwidth 350 Hz to 6.5 kHz
Distortion: < 10% THD+N at full power, < 3% THD+N at 10% power
Voice Recorder      
Record time max:  1 minute     
Code Load Options
User Interface
DIP Switch   
Config switches: 8 (See install manual for descriptions)
Lighting Bus
CAN Bus
Conforms to BOSCH CAN Network 2.0-B and complies with ISO 11898
Terms of Sale/Guarantees
This product will be installed into an amateur built plane or kit plane.
The installer of this product is confident and has a competent skill level to ensure a safe and successful installation.
This product is not being purchased for the purpose of re-sale.
This product is being purchased as part of a complete panel, with all interfacing between systems (wiring) and bench testing.
By providing your aircraft registration number you have agreed to all of the above listed terms/guarantees.
Payment & Security
Your payment information is processed securely. We do not store credit card details nor have access to your credit card information.